If you're following me on Pinterest (just click the "Pinterest" button on the right), you can see I have a ton of recipes pinned. So I've decided to start Pinterest Wednesday. Once a week I'll try out one of my pinned recipes and share the results, both good and bad. If you decide to try out the recipe, please let me know how it turned out for you!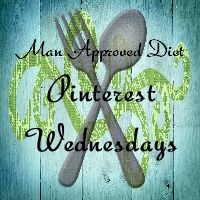 For my first recipe I went with a fairly easy one, Homemade Hot Chocolate. Besides, making it helped me with my homemade Christmas presents this year. The recipe can be found here: http://penniesonaplatter.com/2012/02/10/homemade-hot-cocoa-mix/.
It only required a few ingredients, unsweetened cocoa powder, powdered milk, powdered sugar and white chocolate chips (the recipe called for salt, but I don't typically add it when I'm cooking). You mix them all together in a large bowl, then run it through a food processor until the chips have become extremely small pieces. Actually, The Man (my husband) helped me with the food processor part. Then just stir 1/3 cup of mix into a cup of hot water. I have to say, I think this was the best hot chocolate I've ever had.