Good Morning Everyone!  I'm actually pretty proud of myself for getting this post done up early
  Just a little note, I'm not going to be able to do the featured post for the next couple of Mondays because I'll heading up to Chicago for a wedding and to visit some family (not to mention a well deserved break after my last set of finals for my bachelors!).  But I promise I'll post one after I get back!!
And now to the fun part
  This week's Man Approved Recipe goes to Memories by the Mile and her Creamy Lobster Farfalle!  Maybe it's because we started watching Deadliest Catch, but lobster sounds amazing, especially if it's in pasta
  Please feel free to take the button for your page.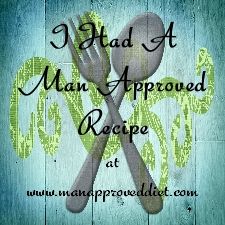 I look forward to seeing what everyone shares this week! Please grab the Man Approved Mondays Button to put somewhere on your blog and check out what the other people brought to the party.